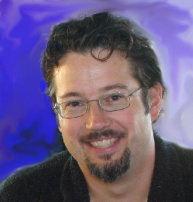 Art is an investigative process for me. I often start with just a general idea of what I am trying to accomplish and allow the work to guide me as much as I guide it. I feel I am most successful when I am able to quiet my mind and follow my intuition. At times my creative process feels like a meditation that leaves behind images.
I studied Fine Art at the University of Georgia where I focused on Jewelry and Metalworking under Gary Nofkee and graduated with a BFA in Drawing and Painting from Georgia State University, studying under Medford Johnston.
The works listed on this site were created after a 10 year hiatus from creating art. I worked in those 10 years in the business world having much success and feeling like something was missing. In November of 2003, my family and I sold our home and took off on the road (for details see our site www.berrytrip.us, the story of The Wanderin' Berrys).
Please email me at peter@peterberry.us to enquire about availability of works listed or for commissions. All works listed with a price are available as pictured. Pictures in the gallery with red text are available for prints and posters via RedBubble.
Please see my new page NO HELMET NO BUENO